Items for Sale
Vintage & Modern Disney
---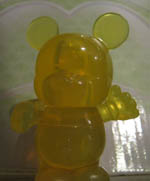 Disney's magical 3-inch tall vinyl Mickeys.

Shown is an example in yellow and below this sample the entire case. Disney has had a huge success in the last year with various vinyl Mickeys—clear, holiday, special D23, and so on. We have a complete case available from the summer '09 D23 convention when everything was a sellout. You won't know what vinyl Mickey is yours until you open the box. Inside is a trading card of the vinyl Mickey and a completely sealed foil bag with the Mickey inside. They retailed last summer at $9.95 for the brief time they were available. They're here (and we doubt anywhere else) for $8 each unopened. Select as many boxes as you would like and we'll let you know exact shipping charge (no markup or handling fee!) when we package one or more for you.

$8 each, limited to this last case available.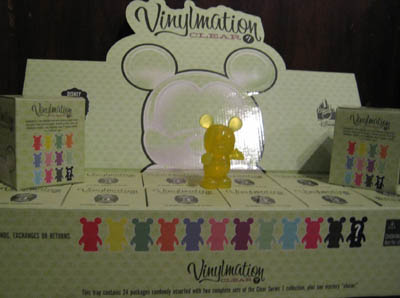 ---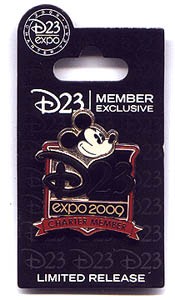 Charter Pin for the D23 launch in the summer of 2009.

This pin was available only at the D23 Expo in Anaheim. The only source for pins now, whether for D23 members or for nonmembers, is to purchase from someone who acquired one at the Expo. We were there and brought back a rare collection of D23 limited edition pins, most of which we have sold out already. This is one remaining Charter Member pin. Limited Release/Member Only and still on the original backing card of issue.

$22


---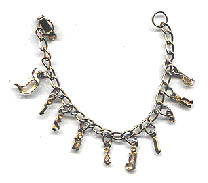 Circa 1960s, a souvenir child's bracelet from Disneyland. Letters on the charm bracelet spellout D-i-s-n-e-y-l-a-n-d. We have an extensive inventory of early Disneyana, from the park and pre-Disneyland. *

$20


---
Gentlemen (and ladies), start your engines. You're on the Disneyland Autopia, added to the young park in its fourth year, 1959, and still going strong. This is an original 1959-1960 "driver's license" given to every rider on the Tomorrowland Autopia. They're still available, just slightly updated, but Disney knows a good thing when they have one…or a hundred. Original 50-year-old mint condition license courtesy of Richfield (remember that name?) *

$32 — SOLD —


---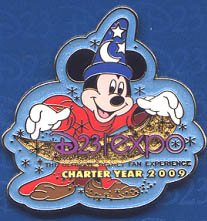 In 2009 Disney introduced the new D23, described as "the ultimate fan experience" for those enamored of Mickey and his friends. D23 stands for, simply Disney 1923, the year Walt opened his first Hollywood studio. His accomplishments in all facets of animation, cartooning, film and entertainment (with Disneylands worldwide) are unprecedented. From '23 until his untimely death nearly 40 years ago, the creative genius never stopped. Now, for Disney fans clamoring for information, memorabilia, entertainment, there is D23, launched in March '09 and celebrated with the first annual D23 Expo in Anaheim (of all places) in September. As members—and of course fans—we're also busy as Disney sellers. Our inventory today exceeds 1,000 items, all aspects of vintage Disneyana and contemporary pins and other limited edition and "open" items. This pin seemed a likely candidate to introduce our hundreds of contemporary pins available (please do contact us for more information). The pin, which is on its original card, was available ONLY to those attending the D23 inaugural convention/expo—to D23 members first and if any were available after that, non-members attending the expo were allowed to purchase the handful of remaining pins. *

$20


---
SHIPPING
All shipping charges will be calculated based on destination, item size and shipping method. All shipping is per package, never per item. Items marked with an asterisk * can be shipped First Class in a properly padded envelope or box for a flat $3.00. Insurance is available for an additional charge.
To Order or Inquire about items listed here, please contact Norm Bolotin at
norm@thehistorybank.com or toll-free 1-877-585-8818.
For Sale
Antiquities, Artifacts & Ancient Coins

Tokens and Medals

Americana/World's Fairs

Natural History

U.S. Error Coins

U.S. & World Coins

Vintage & Modern Disney

U.S. Civil War

Baseball



---
PRICE LISTS AVAILABLE