Items for Sale
TOKENS AND MEDALS
---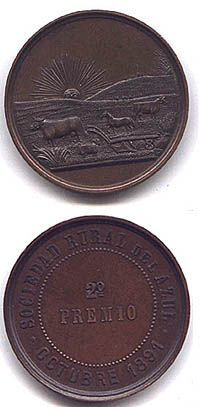 Beautiful European Medal
We have expertise in world's fair, Olympic and other medals, and to a lesser degree many of the myriad variety of European medals. We try to gather all the pertinent facts about all medals we handle, but in some cases we must rely on the knowledgeable collector or dealer from whom we purchase. While acquiring a small holding of Olympic medals for our upcoming auction, we found a few medals outside our general areas of expertise. But we are pleased to offer this handsome specimen which came along with several outstanding Olympic pieces.

This 19th century medal is a very thick bronze and quite attractive, with some original red showing, but with mostly brown coloring. One side shows a farming scene with a very happy sun rising in the background while the high relief foreground has a simple farming scene with bulls/cows, a horse and a sheep. The sun is very prooflike in reflection and appearance. The medal has a thick rim and this entire design is raised high above the surface via the design of the farmland.

The reverse reads simply Socieded Rural Del Azul/Octubre 1891. The medal weighs 47.9 grams and is 46 mm thick, with a planchet thickness of a very hefty 5.5+ mm.

The medal comes with its original round case that is in excellent condition; the circular edge of the top is separated in a small part of the lid. Overall the top and bottom are well constructed cardboard in dark blue and stitched rather than just glued.

Since we acquired this quite inexpensively we are passing along that savings and hope it finds a good home where someone knows or can research its background/significance.

$49


---
Massive State of Israel Gov't Issued Copper Medal
The medal, 2.5 inches in diameter, is a brushed copper finish and commemorates Israel's rockets and quotes the bible "There shall come a start out of Jacob."Issued to commemorate "Science in the Service of Peace." The medal was struck by the State of Israel and has an English and Hebrew edge stamp and was minted, it appears, in 1962. It is a very modern design and highly intriguing--and certainly today would be very controversial. The massive medal is 7mm thick and weighs 113.2 grams.

$32

---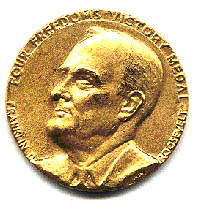 Series of FDR/Roosevelt So-Called Dollars circa 1945 featuring FDR and struck to celebrate freedom at the end of World War II. HK911/912/913, seldom offered as a set. Designs are the same and the 38mm medals are struck in gold plating or gilt, sterling and then bronze. The silver is as you would expect, but the gilt is absolutely brilliant. A terrific set whether you collect World War II items, So-Called Dollars or FDR--a perfect set in each. Not to be confused with the, frankly, many junky post-WWII medals that were made and sold for 50 cents or a dollar featuring Roosevelt. *

$145



---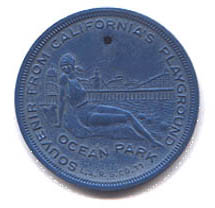 Rare Blue anodized aluminum Santa Monica So-Called Dollar, HK687.
Many times more scarce than the non anodized aluminum,the blue Santa Monica is holed as made and has theidentical design as on the aluminum piece. Great item and very tough to find. Interestingly, the HK book lists various metals but does not list the anodized blue for whatever reason. It's not SO rare that it wouldn't be listed, but if the standard aluminum is R4, the blue certainly is 10x more rare and that should translate into perhaps an R7-R8. In the last few years when we've seen perhaps 50-100 aluminum we've seen 4 or 5 of the blue. *

$95 — SOLD —

---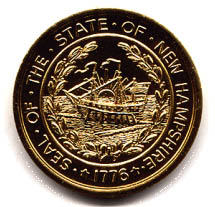 Pair of unusual medals celebrating the state of New Hampshire, part of a series of state medals issued privately. Included are the dollar-size anodized silver and gold (colored) aluminum medals and the original paperwork from the issue. A very nice but inexpensive So-Called Dollar set, not listed in the HK book. *

$29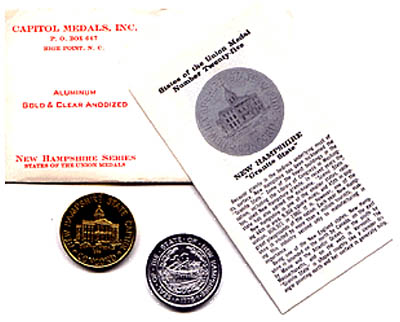 ---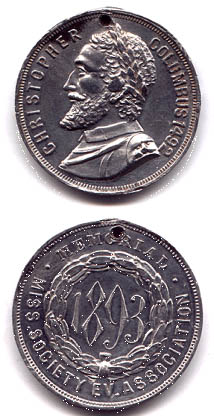 Gem BU unlisted So-Called Dollar from the World's Columbian Exposition.
This bright and lustrous SCD is from what we suppose to be the Mississippi (Miss) Memorial Society Evangelical (Ev) Association. We have handle two others over the years and have not found information on the organization that struck the medals. But that is hardly unusual. The Eglit book on fair memorabilia published a half century ago lists several dozen medals not listed in HK, and conversely we have handled many SCD-sized medals not listed in either publication. This gem, with just a small area of tarnish (just to the rim above Columbus' forehead), appears to be German silver or possibly silver plated bronze. Gem uncirculated.

$125

---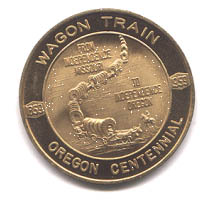 The Oregon Centennial of 1959 spawned a variety of So-Called Dollars, only a small portion of which are listed in the HK book. We acquired an amazing collection of unlisted SCDs from various cities in Oregon, each of which was issued to commemorate statehood. In most cases the SCDs were issued using standard obverse dies coupled with local or "trade dollar" reverses. We have sold many in the collection acquired from an Oregon collector, but still have a nice inventory of these rare medals.

Remaining scarce-to-rare Oregon Centennial So-Called Dollars (unlisted in H-K) include those listed below. All have one side with the standard Centennial obverse and a reverse citing information about the issuing city or county. All are bronze with gilt finish unless noted; likewise, all are unlisted in Hibler & Kappen unless noted. We try to grade very conservatively and use Choice BU to indicate approximately MS63, with Gem BU being MS65 or higher.

At some point a third edition of the Hibler & Kappen book will no doubt be published, likely several years down the road. It took years before the publisher brought the long-out-of-print book back in its "new" second edition; the current book has a color section and a supplementary price guide, but it lists exactly the same 1,000± SCDs as in the first (1963) edition. The editors have promised that a future edition will include expanded contents. Obviously, adding myriad SCDs that were omitted or unknown 47 years ago will be quite a task, but considering those minted after '63 will be an even greater project. Will such a future edition include 1,200, 1,500, 2,000 or more SCDs? And, even if the contents double, we can only speculate on how many of the unlisted Oregon SCDs will be added.

Two almost contradictory things will occur if and when some of these SCDs are added to the bible of the hobby. We will find more in closets and old collections/accumulations that we thought were scarce or rare, and in many other cases we won't.... We will just confirm the rarity and suddenly some of those listed here will be R-7 or R-8 and the demand (and price) will shoot up. For now, with surviving numbers unknown, these are very inexpensive, unlisted and we would think very desirable 51-year-old So-Called Dollars.

Oregon Centennial Unlisted SCDs
INVENTORY FOR SALE
Ashland, BU with some reverse staining
$14.00
Astoria/Clatsop County:
Gem BU
BU with some spotting

$24.00
$14.00
Burns, Gem BU
$24.00
Canby, Gem BU
$24.00
Creswell, Unc with reverse stain
$12.00
Grant's Pass, unique with Caveman obverse, BU with scattered spotting and some discoloration on high points of design
$14.00
Independence (HK559), Choice BU
$14.00
Jantzen Sportwear, Portland, size of U.S. nickel, only undersized medal we have seen from the Oregon Centennial, Gem BU
$24.00
Klamath Falls, Klamath County, reverse has an outline of a pelican, Choice to Gem BU
$16.00
Lebanon:
BU
Gem BU

$14.00
$24.00
NYSSA (we are unaware of what this acronym means, but it has the standard obverse, typical reverse only with "Gateway to Oregon/NYSSA" substituted for a city or county, Gem BU
$20.00
Roseburg, Silvered, not gilt (we assume and are pricing as if it is silver plated but may be actual .900 silver), Choice BU+
$15.00
Springfield, Choice BU
$14.00
Sweet Home:
Unc with discoloration
BU to Choice BU
Gem BU

$10.00
$18.00
$24.00
---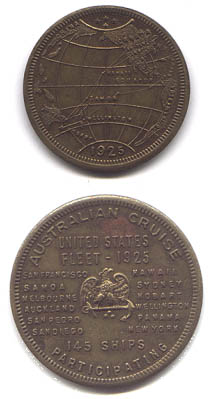 Outstanding and unusual bronze unlisted So-Called Dollar from 1925. This uncirculated, rather shallow relief SCD commemorates the visit of the United States fleet to Australia. The post-World War I period was a time of "goodwill" voyages that did double duty for the United States, spreading America's umbrella of democracy with friendly visits and also flexing its military muscle to let both allies and enemies in World War I know that the country was maintaining/building its military. The medal show the routes and stops of the fleet, which, amazingly, consisted of 143 ships! *

$55 — SOLD —

---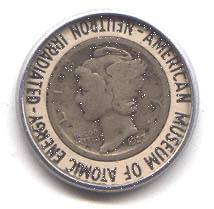 Nuke 'em, indeed! This is an "irradiated" Mercury dime (nice 1923!) encased in an aluminum or light metal frame and enclosed in mica over the top from the Museum of Atomic Energy! Great souvenir, for the numismatist or student of the cold war. Probably issued circa 1945-48 *

$19.95

---
SHIPPING
All shipping charges will be calculated based on destination, item size and shipping method. All shipping is per package, never per item. Items marked with an asterisk * can be shipped First Class in a properly padded envelope or box for a flat $3.00. Insurance is available for an additional charge.
To Order or Inquire about items listed here, please contact Norm Bolotin at
norm@thehistorybank.com or toll-free 1-877-585-8818.
For Sale
Antiquities, Artifacts & Ancient Coins

Tokens and Medals

Americana/World's Fairs

Natural History

U.S. Error Coins

U.S. & World Coins

Vintage & Modern Disney

U.S. Civil War

Baseball



---
PRICE LISTS AVAILABLE